​A Visit to Teal View
​A Visit to Teal View
Public Wetland Education Area Under Development
The sun is shining and frogs are chorusing their songs on a breezy day in May in a field in Hamilton County, about five miles north of Hampton, Nebraska. Spring rains have saturated a low area in what was previously a cornfield. Beetles creep through the lush vegetation, an early Monarch butterfly flits along, and the trills and chirps of dozens of killdeer and red-winged blackbirds fill the air with sound.
Long before this was a cornfield, it was a wetland, a vital area for water filtration, aquifer recharge, and wildlife habitat. The area is being restored to its original state through a partnership between Ducks Unlimited, Natural Resources Conservation Service, Nebraska Environmental Trust, Rainwater Basin Joint Venture, and the Upper Big Blue Natural Resources District. The 39-acre property called Teal View Wetland Education Area is still being developed. Soon it will fulfill the important functions of wetlands, as well as provide an area for nature enthusiasts and hunters.

Earlier this spring hundreds of ducks waddled, foraged, and drowsed on the water here, enjoying a layover on their migration northward. Many species were spotted including American widgeons, green- and blue-winged teal, northern shovelers, gadwall, redheads, mallards, pintails, and ring-necked ducks. The flocks mingled in the safety of the shallows and took advantage of the rich food source available in this central flyway region of Nebraska, where millions of migratory birds annually travel.
Hundreds of ducks enjoyed Teal View and nearby wetlands earlier this spring.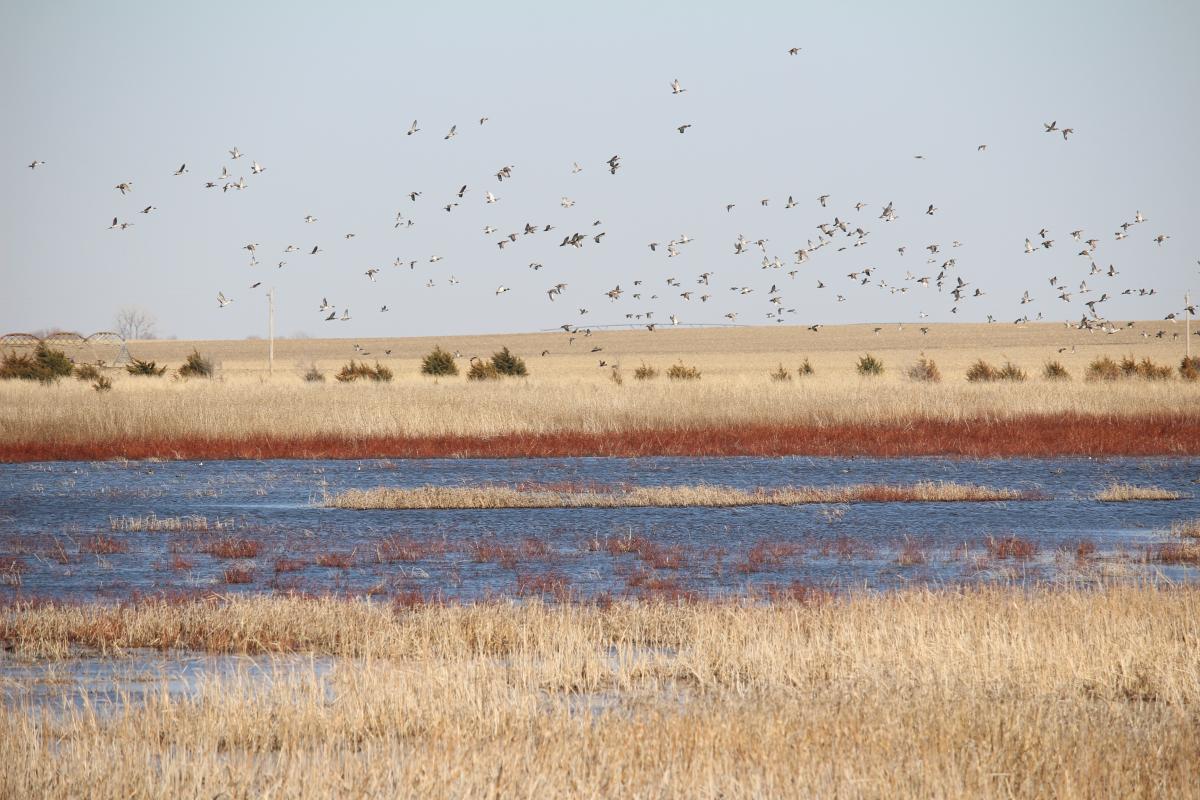 Today, a single pair of blue-winged teal paddle peacefully, darting in and out of the tall stands of eastern gamagrass. Blue-winged teal are long distance migrants, among the last ducks to migrate northward in spring and one of the first to migrate southward in fall. They are often seen in Nebraska in spring and fall.

In the distance, a single great blue heron hunts frogs in the marshy habitat. The area is home to many mammals as well. A quick visual inspection of the soft mud reveals tracks of deer, coyote, and raccoons.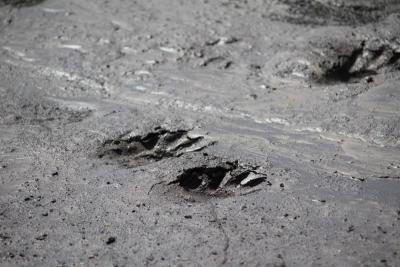 Nebraska was once dotted by a variety of wetlands, including marshes, lakes, river and stream backwaters, oxbows, wet meadows, fens, forested swamps, and seep areas (source). Most of Nebraska's network of wetlands has been destroyed or degraded in the last hundred years, as the land has been drained and converted to some of the most productive agricultural real estate in the world. What has been lost is harder to quantify than the number of acres. Wetlands improve water quality by filtering agrichemicals before they enter the groundwater supply. They provide habitat for thousands of species of plants, animals, and insects. They reduce the impacts of flooding and prevent soil erosion. A functioning system of wetlands is an essential part of the landscape for a healthy and productive place to call home, for humans and animals alike.

Many of Nebraska's wetlands have been drained and filled to make way for row crops. Today the benefits of wetlands are being recognized more often as the frequency and intensity of storms increase. As a result, there is a greater need for the flood control and water filtration wetlands provide.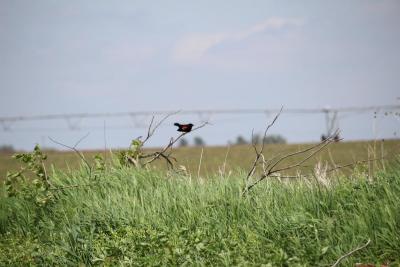 The Upper Big Blue NRD is partnering with other agencies to protect this spot and use it to educate the public on the importance of wetlands in Nebraska.

The Teal View property was purchased through the Ducks Unlimited revolving lands program, which takes ownership of properties temporarily while they are being restored, then gives them to entities like the Upper Big Blue NRD to manage for public benefit or sells them to private owners who will maintain them as wetlands. Ducks Unlimited, the Rainwater Basin Joint Venture, and the Natural Resources Conservation Service (NRCS-USDA) offer a variety of programs to help landowners restore and protect wetlands.

When it is more established, Teal View will be a good spot for hunting in fall and early winter. (To look up public access hunting locations, use this interactive tool provided by Nebraska Game and Parks. Teal View Wetland Education Area is currently listed as "Ducks Unlimited Revolving Property– Kohtz.") Tim Horst, Ducks Unlimited land manager for Nebraska and Kansas, is eager to see the area maintained for conservation purposes. The property was of interest to Ducks Unlimited in large part because of its location. "This is an underserved area for public wetlands," Horst said. "We wanted to make it available to the public for recreation."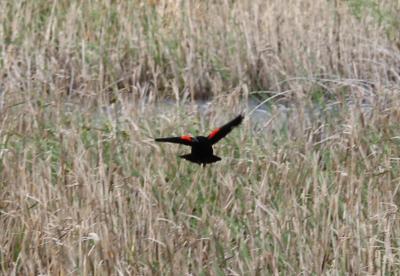 Horst's primary consideration is, of course, the birds. "We hope that the public is able to recreate, but we also hope that the habitat will be managed to its highest and best uses. Our objective in this area is migration habitat so that we can send healthy ducks north. This is the last stop-over before they get to the breeding grounds. The birds that reach the breeding grounds first and in the best condition are also most successful at completing the nest and rearing a brood." In that way, the habitat availability in Nebraska is essential to maintaining a robust population of many species of waterfowl, like geese and ducks, as well as shorebirds and waterbirds including cranes, herons, and pelicans.

Most of the ducks that visit Teal View each spring will only be in Nebraska for an average of seven days before continuing their journey north. While short, it is a valuable time as the birds will put on an additional 10 – 15 percent of their body weight as lipid reserves that will be used to complete migration and initiate nesting.

"Without quality habitat in Nebraska, they won't have as much reproductive success in breeding grounds to the north," said Horst, including in the Dakotas, Montana, Alaska, and Canada, as well as the sandhills of Nebraska.
Nebraska's wetlands are a vital habitat for many species.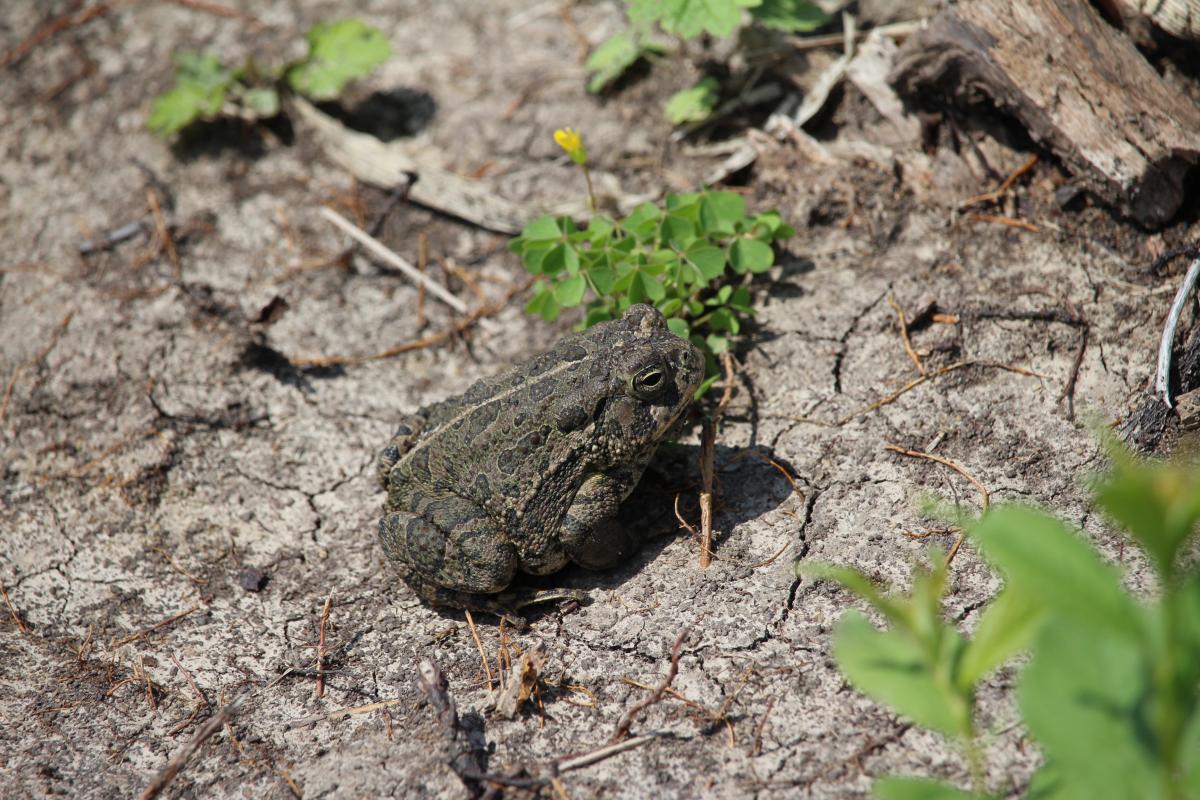 A challenge with wetlands is that they are not the zero maintenance landscapes one might imagine. Proper management is key, Horst explained. "If you're not properly managing a wetland, cattails, bullrush, reed canary grass, trees, and other perennial plants will take over." Nebraska's wetlands were once naturally managed by herds of bison, that would keep plant populations in check, deposit fertilizer, and turn the earth with their hooves. While these roving megafauna have largely disappeared from the landscape, their domesticated cousins, cattle, are abundant in Nebraska, outnumbering people four-to-one (source).
"One of the best wetland management tools we have is grazing," said Horst. "Keeping the wetlands maintained often takes a more aggressive approach first, like disking or spraying, but once you've done that, cattle can keep you in that early successional state longer." An early successional habitat is one that is dominated by grasses, flowering plants, and other food sources for wildlife. Without maintenance, these habitats will become forested and lose their value to migratory birds. "There's no finish line and no silver bullet when it comes to land treatment. There's nothing you can do that will just 'set it' forever when it comes to wetlands."

To restore Teal View, Ducks Unlimited removed sediment, filled a reuse pit that was draining the property, removed trees, and planted grasses. The Rainwater Basin Joint Venture will soon install fencing and a livestock well to maximize cattle grazing opportunities. Moving forward, the NRD and Rainwater Basin Joint Venture will work together to make sure the wetland is properly maintained and providing the best habitat for migratory birds. The Upper Big Blue NRD also works with the Rainwater Joint Venture to provide equipment to district cattle producers to make wetlands more accessible for grazing.

"We are happy to partner with these other conservation-focused agencies to provide this new public access wetland," said David Eigenberg, general manager of the Upper Big Blue NRD. "We hope this will be a great place for people to learn and enjoy nature, as well as a place for wildlife to thrive."
A pair of blue-winged teal enjoy Teal View Wetland Education Area near Hampton