​Moore to be honored as Director of the Year at statewide conference
​Moore to be honored as Director of the Year at statewide conference
Since the founding of Nebraska's Natural Resources Districts in 1972, Larry Moore has been a fixture of the board room at the Upper Big Blue NRD. Moore first started attending NRD board meetings 50 years ago, not as a director, but as a driver. One of his friends, Raymond Burke, was elected to the first board of directors for the local district, but he needed someone to drive him to the meetings because he didn't like to drive at night. Moore volunteered to drive and became engaged with the work of the district as he sat in on meetings. By 1974, Moore's interest rose to the level of running for a seat on the board himself. That was 47 years ago. In that time, Moore has served continuously as a director and has seldom missed a meeting.
"What I've enjoyed most about being a part of the board is the education I've gotten out of it," said Moore. "I've sat in with people from Lincoln and all sorts of areas, I've had the opportunity to go to national conventions, I've had the opportunity to go to Washington DC and testify before congress, which I never would have done otherwise…I enjoy it so much its almost embarrassing sometimes that I get paid for it."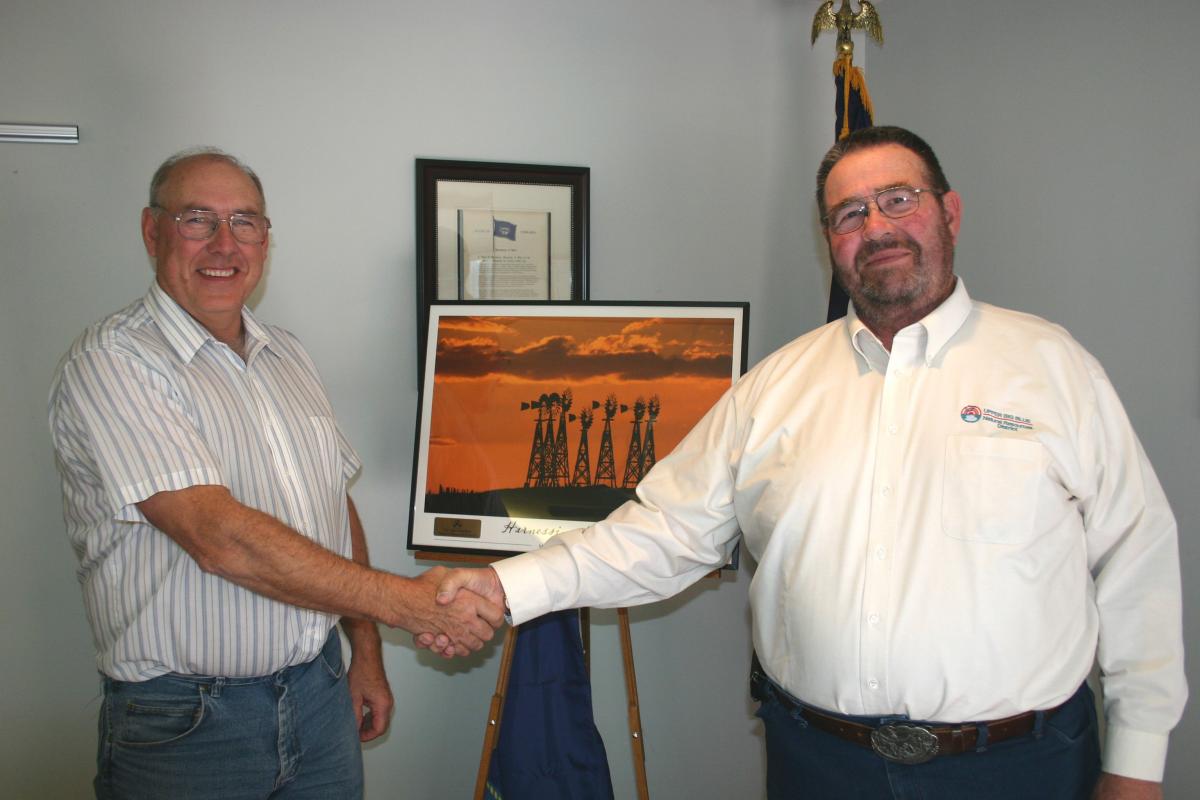 Larry Moore shakes hands with fellow board member Lynn Yates while being recognized for years of service in 2016.
Beyond near perfect attendance, Moore has provided essential institutional knowledge and a deep understanding of the issues faced in the district, both as a board member and as member of the local ag community. He has provided leadership and modeled mature debate, deliberation, and decision-making during almost five decades of board service.
For these reasons, Moore will be recognized in September by the Nebraska Association of Resources Districts with the Director of the Year Award, presented annually to recognize outstanding effort and dedication to conservation by a current or former director.
"Larry is a pillar of this district. His leadership has been indispensable for decades," said NRD General Manager David Eigenberg. "He brings so much enthusiasm and knowledge to the challenges the NRD is working to tackle."
Moore studied agriculture for several years at UNL, working on summer farm crews in Nebraska, Montana, and Canada, before returning to his family's farm in 1960 to work full-time with his father. Today Moore farms with his brother Mike, son John, and grandson Max. Their operation involves hybrid seed grain crops and hay and pasture. The farm is composed of both dryland and irrigated fields. Moore began experimenting with cover crops and no till in 1989 and has built on the practices since then. For the last five years, the operation has been 100 percent no-till and has incorporated cover crops whenever weather conditions will allow, with the goal of 100 percent coverage.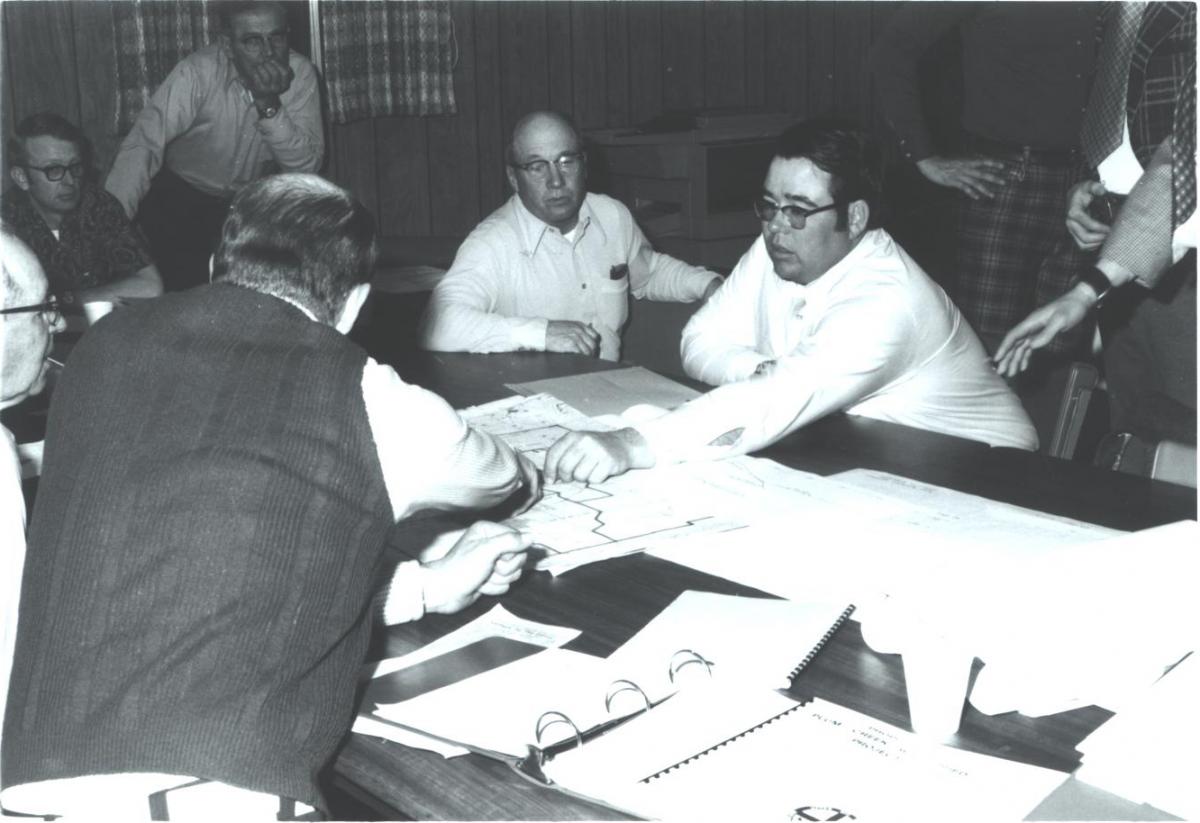 Larry Moore discusses plans at an early NRD board meeting
Moore leads by example, as he talks to other area farmers as well as board members about the benefits of cover crops and no till on his fields and is pleased to see the practices are being adopted at a greater rate in the area in recent years. Moore has continuously invested in water conservation on his farm since the 1970s, moving from gravity irrigation to center pivots. He has installed soil moisture sensors and irrigation scheduling technology to reduce the amount of water they use as well as reduce the likelihood of nitrogen leaching.
Moore makes it a high priority to attend NRD board and committee meetings, as well as events and other training opportunities. He has traveled across the state and nation representing the Upper Big Blue NRD as well as Nebraska's NRD system. He is continuously working to improve his understanding of water related issues in the district and state, and to pass on the unique vision of local leadership created in Nebraska to manage water and soil resources. He recently attended the annual basin tour hosted by the Nebraska Association of Resources Districts, which visited Nebraska's panhandle region and explored water quality and quantity challenges and solutions.
Moore has served in numerous board roles in his years of service. He has served on all standing committees as well as several special committees. He served six years as chairperson and one year as vice chair.
In addition to his decades of service to the Upper Big Blue NRD, Moore's other leadership roles include Gresham Grain Co-op board of directors (1967-1976); Read Township board (1973-1977); Nebraska Natural Resources Commission (1982-1986 and 2006-2010), including serving as vice chair (1985) and chair (1986), and named Admiral of Nebraska Navy in recognition of his service; Gresham Community Club (member 1985-present); Nebraska Association of Resources Districts board of directors (1987-1991 and 2011-2019), including two years as vice chair and state representative to the National Association of Conservation Districts Council; Nebraska Water Resources Association board of directors (1992-1995); Butler County Planning Commission (member 1998-1999 and vice chair 2001-2002); NARD task force studying NRD sub-district representation, population ratios, district operations and financing (2000); and the Big Blue River Compact Administration (member 2013-present).
The Nebraska Association of Resources Districts (NARD), the trade association for Nebraska's 23 Natural Resources Districts (NRDs), works with individual districts to protect lives, property and the future of Nebraska's natural resources. NRDs are unique to Nebraska, and act as local government entities with broad responsibilities to protect Nebraska's natural resources. Major Nebraska river basins form the boundaries of the 23 NRDs, enabling districts to respond to local conservation and resource management needs. Learn more about Nebraska's NRDs at
www.nrdnet.org
.