It's tree time!
It's tree time!
Tuesday, December 14, 2021
Annual Conservation Tree Program is in full swing
There are hundreds of documented benefits to surrounding yourself, your business, or your community with trees. From physical and mental wellbeing to economic stimulus and crime reduction, planting trees on your property is a simple way to make a big impact. That's why the Upper Big Blue Natural Resources District is once again offering its popular Conservation Trees Program this year. The program provides residents of the district with the opportunity to buy bulk seedlings at a low cost for spring planting.
Last year, the Upper Big Blue NRD sold 19,225 trees to be planted in the district. Close to 5,000 of these were machine planted by NRD staff. Machine planting is available for orders of 150 or more and is the ideal way to install a windbreak or other large-scale planting. For these larger orders, NRD staff will provide free consultation services to the property owner to plan where trees will be planted and which varieties to install for best results and to achieve specific goals. (See related article: "Planning and Planting")

The Conservation Tree Program will collect orders until March 30 and trees will be delivered in April. Each year, some tree species sell out, so those that want a particular type of tree are encouraged to order early (by February 1). The Upper Big Blue is offering many tree varieties this year, including shrubs such as American Plum; fruit and nut trees such as Black Cherry; popular conifer varieties including Colorado Blue Spruce; and deciduous trees including Honey Locust and Silver Maple. The seedlings are $1.18 each and must be ordered in sets of 25.

The Upper Big Blue NRD will also offer small acreage tree packages containing 50 trees for $55. The packages will include ten trees each of five species—a great bargain.


District Forester Kyle Yrkoski is ready to assist you in planning a planting. Reach out with questions or to get started by emailing him at trees@upperbigblue.org.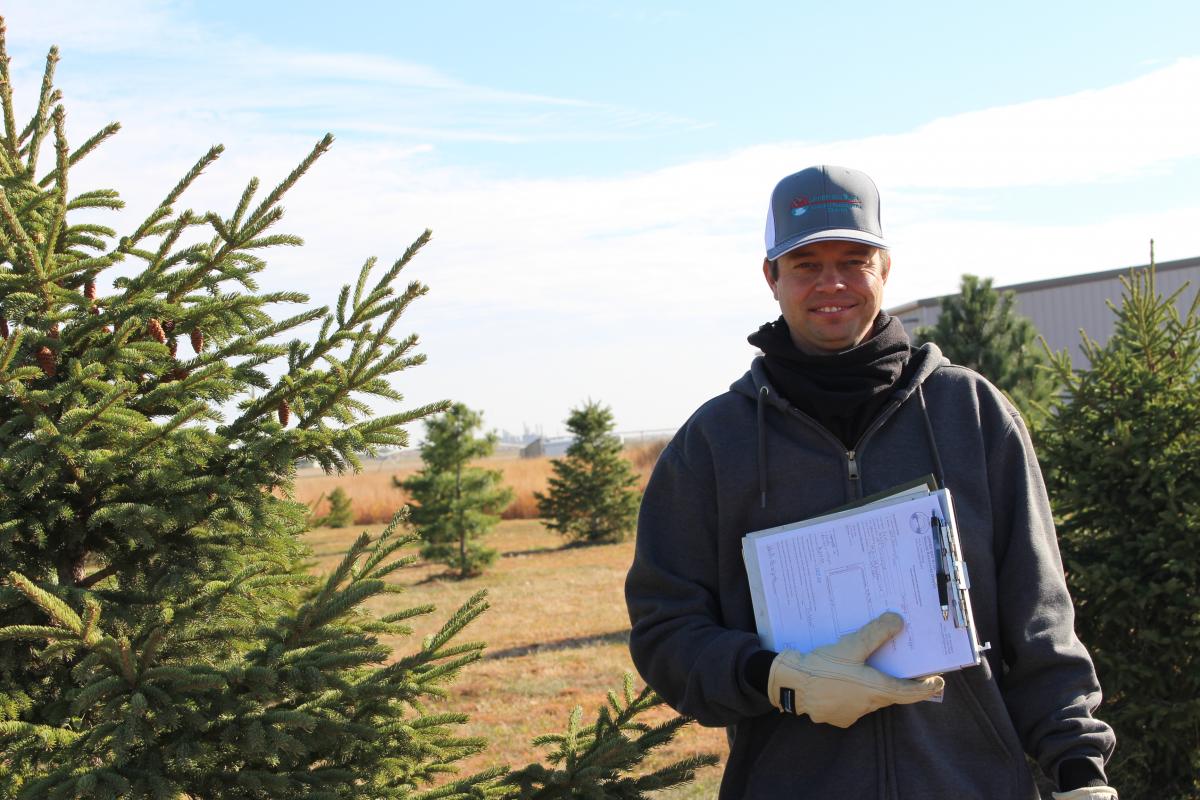 While there are benefits for everyone to planting more trees, there are extra advantages for ag producers. For those raising livestock, a shelterbelt of trees can increase calf survival by 12 percent, minimize winter stress on the herd by providing a windbreak, and can increase feed efficiency. For those with row crops, a shelterbelt is even more useful, as trees keep costs down by conserving plant moisture and by reducing wind damage and abrasion of plants.

A shelterbelt near a farmstead can be particularly beneficial in Nebraska, as trees protect the home from noise, dust, and snow drifts, as well as cut down on heating and cooling costs.
Those who enjoy hunting and fishing also benefit from additional trees on their property, as more trees means more wildlife. Trees provide habitat and food sources for many animals, as well as shelter from bad weather and cover from predators. Trees planted along waterways means cleaner, more habitable water for fish, as the trees filter pollutants, reduce erosion, and stabilize streambanks.
Those that are considering tree purchase for a school, church, business, or community should note that an increase in trees has been linked to reduced air and water pollution, lower air temperatures, decreased crime, lower stress levels for residents, and increased economic development. For individual property owners there are economic gains to planting trees, as well. As was already mentioned, trees near a home or office building decrease heating and cooling costs. They add beauty and increase property values, as well.
Ready to order trees for your home, farm, or business? Order
online now
or call the NRD office at 402-362-6601 to get started. Paper order forms can also be picked up at the NRD office (319 E 25th St, York).