Livestock, the Lifeblood of Rural Nebraska
Livestock, the Lifeblood of Rural Nebraska
Could livestock be the key to reinvigorating rural Nebraska?
A recent tour of livestock facilities hosted by the Alliance for the Future of Agriculture in Nebraska (AFAN) visited three locations in the Upper Big Blue Natural Resources District to discuss the importance of livestock operations for keeping young people in rural areas and stimulating the economy through new market activity.
According to the USDA's most recent agricultural census, the average age of farmers in Nebraska is 56.4 years old. Across the state, the number of farms is declining while the average farm size is increasing. Given the thin margins and commodity price variability, it can be hard to farm if you don't have the economy of scale offered by a large operation. The initial startup costs for row crop agriculture, including land, equipment, seed, and inputs can put agriculture out of reach for young people who don't have an already established family farm to join. Livestock production, says AFAN, can offer a lower investment option with an immediate revenue stream and faster equity building opportunity—giving more people access to an income on the farm and a life in small town Nebraska.
One such producer is Kevin Peterson, owner of CBA Farms in Osceola. After college, he wanted to return to his family farm in Polk County, but says there wasn't room in the existing corn, soy, and cattle operation to make that financially feasible. He needed to create a new revenue stream to make it work.
With help from his parents, he bought 30 acres and signed the papers to finance the construction of two swine barns. At the age of 22, he was able to begin his own agribusiness. Progress was slow but steady. This type of barn is typically paid off in 10-15 years, at which time ag entrepreneurs can reinvest and expand their operation if they choose. Peterson added a third, larger barn that doubled the size of his output. Today he has about 4,800 gilts on the site that he raises as brood stock for other commercial operations.
Kevin Peterson gives a tour of his swine barn operation.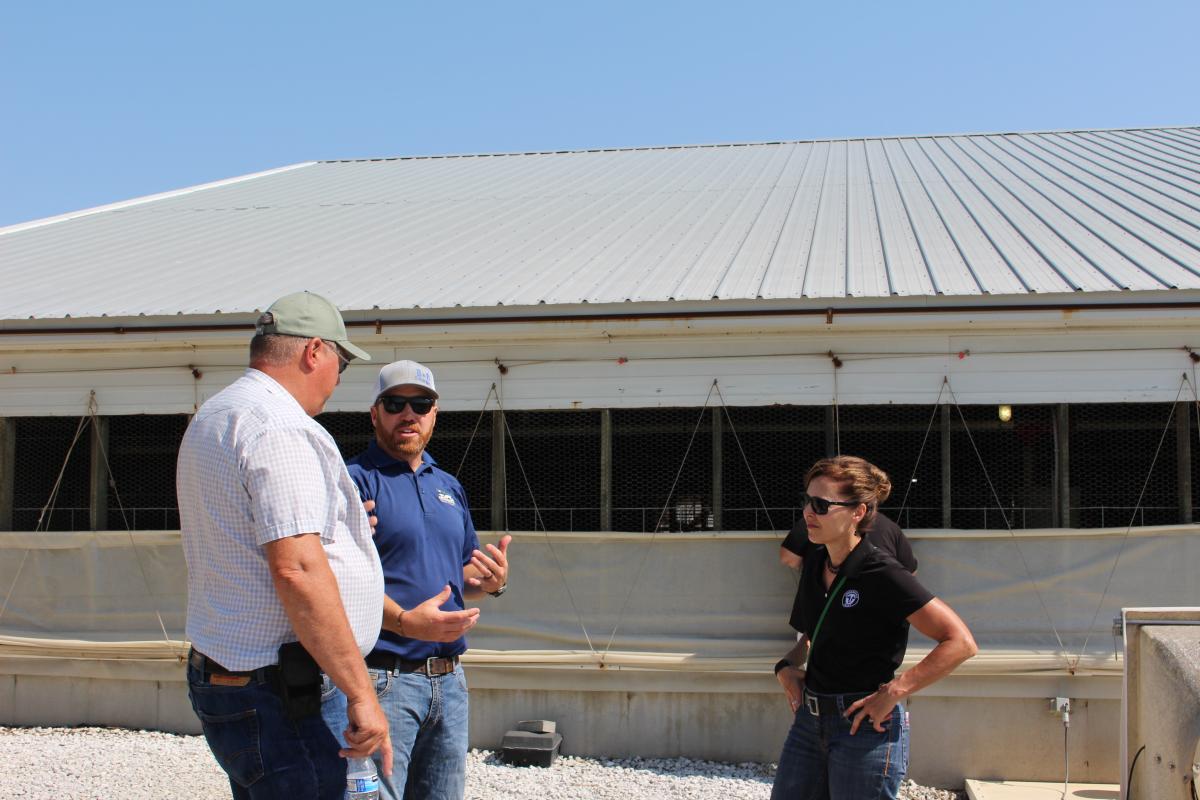 Peterson's barns were the first stop on the AFAN tour. He explained to the group of about 30 participants the cross-ventilation and deep pit system that keeps the odor footprint of his operation small. Indeed, standing a few yards away from the barns, the only indication that there were animals nearby was the occasional squeal or oink. Peterson explained that the waste from the animals was handled in a way that protects the environment while also providing a local source of fertilizer for the surrounding acres of cropland. "When it's managed properly, you don't see or smell it," Peterson said about the nutrient management plan. Swine manure is high in nitrogen, which is an important input for corn growers.
"Livestock production is important to the future of Nebraska agriculture and to getting young people back on the farm," Peterson said. "This model allowed me to get started in my 20s instead of my 40s." Peterson and his wife have three kids. The family has lived in Osceola for almost 20 years. "Livestock production increases tax value and brings more money to county budgets," he said.
The AFAN tour continued with a visit to a poultry farm run by Darin Sterup in Osceola that produces chickens for Costco. Darin's father, Don, started the business with his first poultry barn for egg production in 1979. Since then, several more barns have been added, each one housing up to 48,000 chickens. Darin joined the business in 1991 and today his oldest son is also involved with managing the day-to-day operations, representing the third generation of Sterups to raise livestock on this plot just west of town. The chicken litter is composted to kill bacteria and then used on local fields for fertilizer, providing an additional income opportunity of $30 to $40 per ton. According to AFAN, livestock manure in Nebraska currently provides 17 percent of phosphorus and five percent of the nitrogen necessary to raise the state's row crops. "I never have trouble finding a place for the litter," said Sterup. "It's always in demand."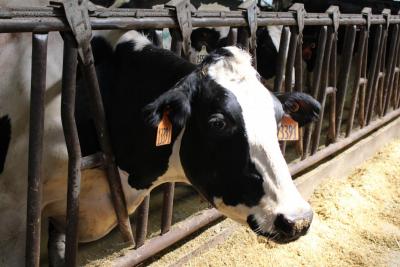 The tour also featured Tuls Butler County Dairy near Rising City, which has a herd of 6,300. In nearby Shelby, the Tuls family also owns Double Dutch dairy, with an additional 4,400 cows. These two herds combine to be the largest dairy operation in Nebraska, producing 20 percent of the state's milk. The state-of-the-art facilities employ more than 100 people, bringing much needed vibrancy to the local economy. Dairy manager Patrick Klitz emphasized the efficient use of water at the dairy, including reusing the same water to cool the milk, water the cows, and cool and clean the barns.
Klitz also showed the group a 47-acre wetland area that surrounds the Butler County site. The Tuls family worked to maintain the integrity of the habitat and Klitz says that pheasants, ducks, and other wildlife are a regular sight.
Like the other stops on the AFAN tour, the manure produced at the Tuls Dairy is a valuable nutrient source for local growers. The high-quality fertilizer adds organic matter and feeds the soils microbiome, improving soil quality. It is a reciprocal relationship as much of the cows' diet is grown in a five-mile radius of the barns. "There is a tremendous economic impact from this one 160-acre tract," said Klitz.
The AFAN tour also featured speakers from various state and local agencies, including the Upper Big Blue NRD, presenting on livestock operations from a policy and environmental protection standpoint. Many rules and regulations are in place to safeguard water quality and quantity around these businesses. Frequently there are local, NRD, and state level requirements to limit the impacts on the environment.
"We want to continue to see livestock operations coming into our district and more farm families coming to the district…We're going to work with people the best we can to make sure we can get the necessary permits to make that happen," said NRD Water Department Manager Marie Krausnick, who explained well spacing rules for high-risk groundwater areas, like parts of Butler County. Flow meters are required on all high-capacity (50 gallons per minute) or irrigation wells in the district and water reporting takes place annually. Nebraska Department of Environment and Energy monitors wells around livestock facilities to regularly test for bacterial contamination in the water supply.
For more information on the NRD's regulations concerning irrigation and high-capacity wells, see the NRD rules and regulations page on our website.
NRD Water Department Manager Marie Krausnick speaks to the AFAN tour group about water regulations that pertain to livestock operations.