On-Farm Research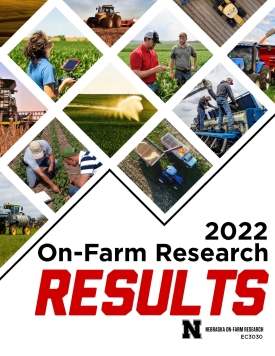 Do you have agronomic questions in your operation but are not sure how to get the answer?  The Upper Big Blue NRD in partnership with the University of Nebraska Extension would like to help. UNL Extension offers the On-Farm Research program. The program helps producers answer agricultural questions using scientific, research-style plots. Extension staff are on hand through the entire growing season to help producers collect relevant data, monitor, and discuss their research. After harvest, Extenstion staff compile and analyze the data to help producers find answers and insights.

Throughout the life of the program, producers have found answers to many of their agricultural questions. The following link takes you to the On-Farm Research Protocols page. This page provides a description of different On-Farm Research projects from past years that can be easily implemented on a producer's farm.

If a producer's agronomic question(s) deal with protecting groundwater quality or quantity, the Upper Big Blue NRD will reimburse producers up to $300.00 for any plant, soil, or water analysis needed to complete their On-Farm Research project. Approval for reimbursement must given by the NRD before research starts. Since this is a reimbursement program, producers are welcome to use any reputable lab for their project. Upon completion of the research, producers are asked to submit copies of their lab invoices to the district for reimbursement.

If you are interested in partnering with the NRD and the University of Nebraska Extension in conducting On-Farm Research, please complete this form or reach out to us at 402-362-6601 to get started.