"No Regrets"
"No Regrets"
Wednesday, November 27, 2019
DeBuhr to retire after long career with Nebraska's NRDs

Rod DeBuhr has spent his entire career dedicated to conservation efforts in Nebraska working for natural resource districts. Now as he eyes retirement on the horizon, he is looking back on four and half decades of work with satisfaction. There were plenty of challenges, but "I have no regrets," he says.

All are invited to attend a retirement reception honoring DeBuhr's 45 years of NRD service on December 19 from 4 to 6 p.m. at the Upper Big Blue NRD office (319 E 25th St, York).

When DeBuhr started working for the Lower Platte South Natural Resource District in 1974, the Nebraska NRD system was still in its infancy, as the districts were organized across the state just two years prior. DeBuhr grew his career as the organization grew. A pioneer in the field, he has the unusual distinction of never having held a job that was previously held by anyone else. He started as a conservationist with Lower Platte South (headquartered in Lincoln), then moved to the Middle Republican NRD (Curtis), where he served as the assistant manager.

The bulk of his career, however, was spent at the Upper Big Blue NRD (York), where he started as the water department manager in 1979. He was promoted to his current position of assistant general manager in 2015 by his longtime colleague General Manager John Turnbull, who himself retired in 2016.

Many things have changed in the 40 years he's been with the Upper Big Blue NRD, says DeBuhr, the most notable one being irrigation practices. At the beginning of his career, most growers were using gated pipe irrigation, though the more efficient center pivot system was starting to gain in popularity. Additionally, the quantity of irrigated acres in the district has increased over the years, from 750,000 to 1.2 million, while the number of farmers has decreased. As water department manager, much of DeBuhr's efforts were devoted to research and education to encourage growers to improve farming practices for better long-term viability.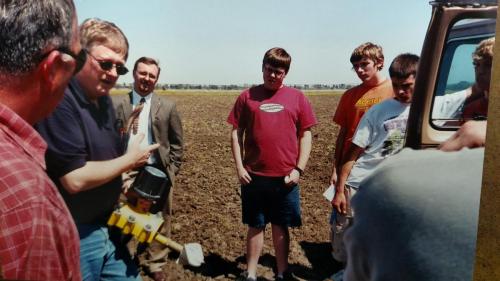 "In 1979, farmers didn't know how much water they were using," he notes. Gated pipe irrigation led to flooding in some areas and not enough water in others. Flowmeters (measuring the amount of water farmers were adding to their fields) were a recommended addition to wells for many years. By 2004, they were required on all new wells and 10 years later were required for all wells. This was a contentious issue, says DeBuhr, as farmers were worried that the addition would lead to taxation on the water. This has not been the case. Instead, the flowmeters allow for greater precision in agriculture, with less waste and environmental impact.

There is much greater understanding now that the wealth of Nebraska is dependent on the health of the Ogallala Aquifer, he says. "Maintaining the water levels is essential to the long-term wellbeing of farmers in this district."

DeBuhr's conservation roots run deep. His grandfather was one of first farmers in Gage County to install terraces to prevent erosion in his fields. His uncle was on the soil conservation board and instilled in him the desire to be a responsible steward of the land.

From 2005 to 2015, DeBuhr worked in partnership with Cornerstone Bank on the CROP-TIP program, which provided a demonstration field in York. He used the property to explore ag innovations such as subsurface drip irrigation systems and to show how conservation can improve a growers' profitability. This work is continued today through the NRD's Project GROW demonstrations in cover crops, crop rotation, and other soil health efforts on the east side of town.

Through CROP-TIP, DeBuhr also had the opportunity to display the wonders of American agriculture, as he was often asked to give tours to school groups and visiting dignitaries and scientists from other countries.

Working in the government sector is not easy, as it often makes you a target for people's anger. Dealing with issues of water quality and quantity in the district for 40 years means DeBuhr has experienced his share of conflict. No one likes regulation, DeBuhr admits, least of all himself. "Unfortunately, some people require regulations in order to do the right thing…regulations wouldn't work if the majority of people didn't think they were necessary," he said, noting that he would much rather incentivize good behavior through cost-share programs than have to police undesirable behavior through regulation.

When it comes to dealing with an angry public, DeBuhr's approach is civil, measured, and kind. "I don't get angry easily and I can disagree with people without it getting personal," says the soft-spoken leader. "I try to remember they aren't mad at me, they are mad at a situation and they need someone to vent to." In a world where social media has made anger and aggression so commonplace, his approach to confrontation is refreshing.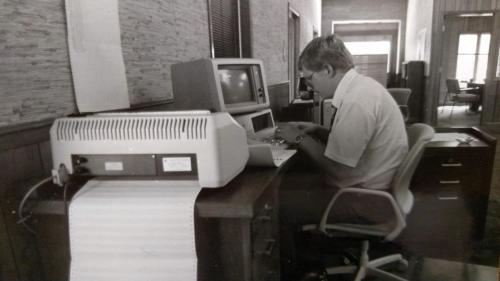 As assistant general manager, DeBuhr has sought to mentor the younger managers on the staff. His responsibilities also include managing IT and facilities, to make sure everything runs smoothly and efficiently at the office. He's a walking encyclopedia of Nebraska water regulation and NRD activity and is often called on in meetings to explain difficult matters of policy or answer questions about why something is done the way it is done. His office sits across from the NRD's file library, but a much greater library of knowledge will walk out the door tucked between his ears on his final day.

General Manager David Eigenberg says he will miss DeBuhr's "wise counsel" when it comes to dealing with challenging staff situations. "The NRD will not quickly replace the 45 years of Rod's practical experience," he said. "The Upper Big Blue Natural Resources District owes much of its success to Rod and his leadership."

In retirement, DeBuhr looks forward to traveling. His first stop is a bucket list location for Judy, his wife of 45 years: Australia. He plans to also visit Brazil for a fishing expedition one day soon. DeBuhr is an avid sportsman and will dedicate much of his time in retirement to hunting and fishing, as well as spending time with his children and grandchildren. As for his grandfather's farm in Gage County, it's still in the family. DeBuhr plans to further develop the land to build up wildlife habitat and improve hunting in the area.

DeBuhr reflected on his time at the Upper Big Blue NRD and why he stayed so long. "It's a good place to work," he said. "I've had a good relationship with the board. There are good people here to work with and to work for."