Planning and Planting
Planning and Planting
Tuesday, December 29, 2020
It's a brisk winter day in Nebraska. The sun is shining but the wind is sharp as Kyle Yrkoski stands on the edge of a cornfield with a landowner in Seward County, just south of I-80. The landowner, Mitch Springer, has a house nearby that is well protected by trees. "In the summer, you can't even see the house from here," he says. He's looking to add the same screen of protection to the few acres of farmland adjacent to his homeplace, where a thick layer of corn stubble covers the rich, dark earth. Currently he rents the farmland out, but someday he may sell it for acreages. While he has no immediate plans to change ownership of the property, he is looking ahead and considering how he could improve the value of the land and enhance his investment.
Step one is simple: plant trees.
"Trees really open up the possibilities for your property," explained Yrkoski, district forester for the Upper Big Blue Natural Resources District. "Regardless of whether he sells the land for more housing development or continues to have it farmed and possibly add livestock grazing, the trees are going to add value and give him options." On this property, trees will provide protection from the elements and added privacy. "Adding trees is going to be something he's glad that he did in a few years," said Yrkoski.
There is a lack of certified arborists in Nebraska outside of the major metro areas. Yrkoski recently completed the statewide arborist certification training program. As one of the few certified arborists in this district, he is pleased to be bringing a high level of expertise to underserved rural areas. This certification benefits district residents as Yrkoski will be a local resource for all tree related concerns.
Tree plantings aren't a one-size-fits-all solution. That's why Yrkoski meets with district landowners who want to add trees to create a customized plan. He asks many questions as part of this process: What are you hoping to accomplish with trees? Are you looking for a windbreak to protect a house or crops? Do you want to improve wildlife habitat? Do you want a living privacy fence or an ornamental enhancement? How quickly do you need results? The answers to these questions guide Yrkoski's recommendations for the project. The NRD also works with communities on urban planting needs, such as improvements to city parks. Last spring, the town of Stromsburg made use of these services when they worked with the NRD to add about 500 trees to expand the campgrounds area at Buckley Park.
The NRD tree planting crew installed 500 trees at Buckly Park in Stromsburg in spring 2020.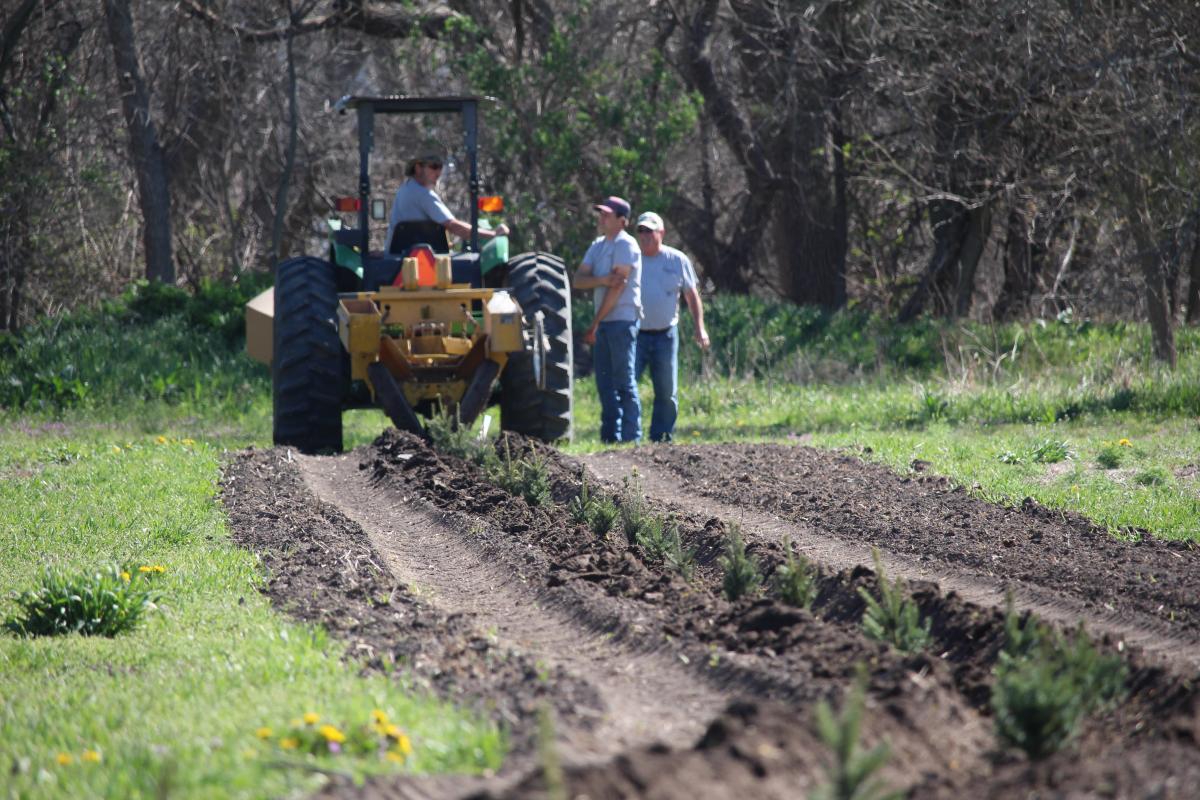 For large-scale plantings, Yrkoski typically visits the property to look at geographic considerations including boundary lines, power lines, nearby roads and water ways, and trees that are already present to make sure that any additional trees planted will be well set up for growing success. Yrkoski then creates a proposal for the landowner that maps where trees could be installed, how many, and of which varieties. The plan includes a total cost for labor and trees as well as projected cost-share funds available. The Upper Big Blue, like other NRDs across the state, offers financial assistance to qualifying landowners for large-scale planting projects, such as windbreak installations, renovations, or extensions, and wildlife conservation plantings. Cost-share funds are also available for communities for improvements, including trees, in public nature areas.
Once a tree plan is complete, Yrkoski works with the landowner to fine tune the project and answer questions. Sometimes the landowner gets started with planting the following spring (NRD trees are planted each year from April to June) and other times they delay a year or two before enacting the plan. While pricing may vary slightly from one year to the next, a planting plan can easily be updated depending on when the trees will be installed. Collaborating on a tree plan with the NRD does not obligate a landowner to implement the plan, and since there is no cost to the landowner to consult on these types of projects, there is no risk involved in getting started.
Yrkoski encourages landowners who are thinking about trees to reach out to the NRD. Afterall, trees are a long maturing investment. "There's a saying that the best time to plant a tree was ten years ago and the next best time is today," said Yrkoski. "You may wish you had put in trees a long time ago, but it's never too late to start. You'll be glad you did in a year or two."
Yrkoski looks at a possible planting site with a landowner in Seward County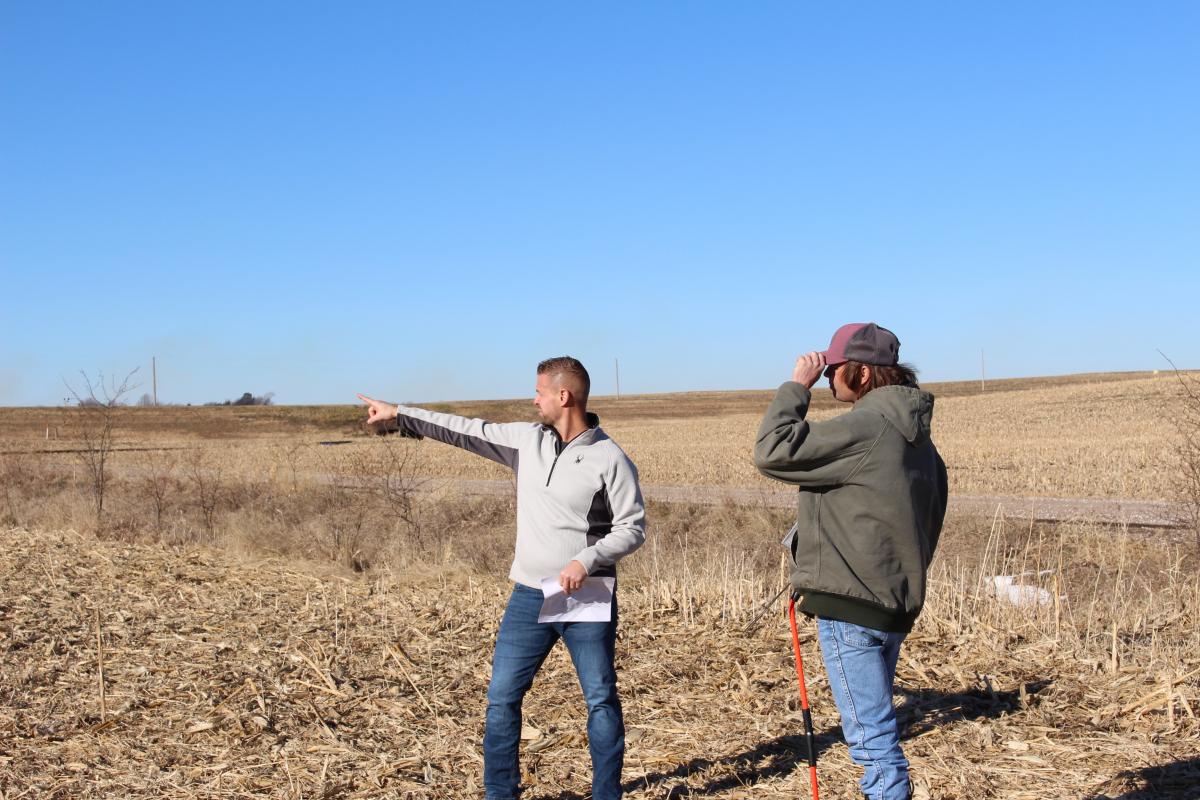 Yrkoski joined the Upper Big Blue NRD in 2015 as a water technician and moved into the role of district forester in spring 2020. A lifelong Nebraskan with roots in agriculture, Yrkoski has a passion for conservation through tree planting. His family has raised cattle and farmed row crops in the Osceola area since the 1800s and has always been dedicated to planting trees and preserving wildlife areas. He also has forestry experience from his previous position with the Upper Loup NRD in Thedford, where he was responsible for designing windbreaks and installing more than 200,000 trees and shrubs.
In his first year as district forester at the Upper Big Blue NRD, Yrkoski has completed quite a few planting plans. Yrkoski suggests that landowners or communities interested in adding trees in spring 2021 call him as soon as possible to start creating a plan and get trees ordered to ensure best selection. Tree orders are taken annually from November to March, but some varieties typically run out each year. Yrkoski is available to visit sites and make recommendations for improvement to existing tree projects, as well as to plan for new ones. For tree resources and programs offered through the NRD, online tree orders, or to contact Yrkoski, visit
www.upperbigblue.org/trees
or call 402-362-6601.