Project GROW Winter Workshop Offers New Ideas
Project GROW Winter Workshop Offers New Ideas
Wednesday, December 22, 2021
From a deep dive into the nitrogen cycle, to advice from Nebraska cover crop experts, to a look at the ag forecast for next year's growing season, the 2021 Project GROW Winter Workshop presented a variety of relevant topics to local producers. Hosted by the Upper Big Blue Natural Resources District, the event offered morning and afternoon breakout sessions for those looking for information on a range of agronomic topics, including those who needed nitrogen management operator certification or continuing education credits for crop advisors.
Videos from the event are now available at
www.upperbigblue.org/projectgrow
.
Speakers and Topics
Ron Jakubowski, precision sales and service agronomist with Aurora Co-Op, presented on the
nitrogen cycle
, including information about what nitrogen is, how it behaves in the soil, and how timing of application as well as hybrid selection and precipitation all influence nitrogen efficiency. Jakin Berns, a specialist with Green Cover Seed, a cover crop business in Bladen, Nebraska, presented on the
use of cover crops
and how to determine the best mix for specific operations. The Berns family got into the cover crop business after they used grant funding in 2008 to add water sensors and cover crops to test plots on their farm. They discovered quickly that cover crops, especially multispecies mixes, are very efficient at water use and had an immediate impact on soil moisture. They've been promoting the use of cover crops through their business since 2009 for erosion prevention, livestock benefits, and improving soil fertility.
Laila Puntel, assistant professor in the department of agronomy and horticulture at the University of Nebraska Lincoln, presented on
tools for improved nitrogen management
. In a time when the cost of nitrogen fertilizer rising, finding ways to reduce dependence on this input or use it to max efficiency is increasingly important. Puntel discussed technology available that can provide guidance on nitrogen use decisions to prevent over application.
Dr. Laila Puntel presents to a small group at the Project GROW Winter Workshop.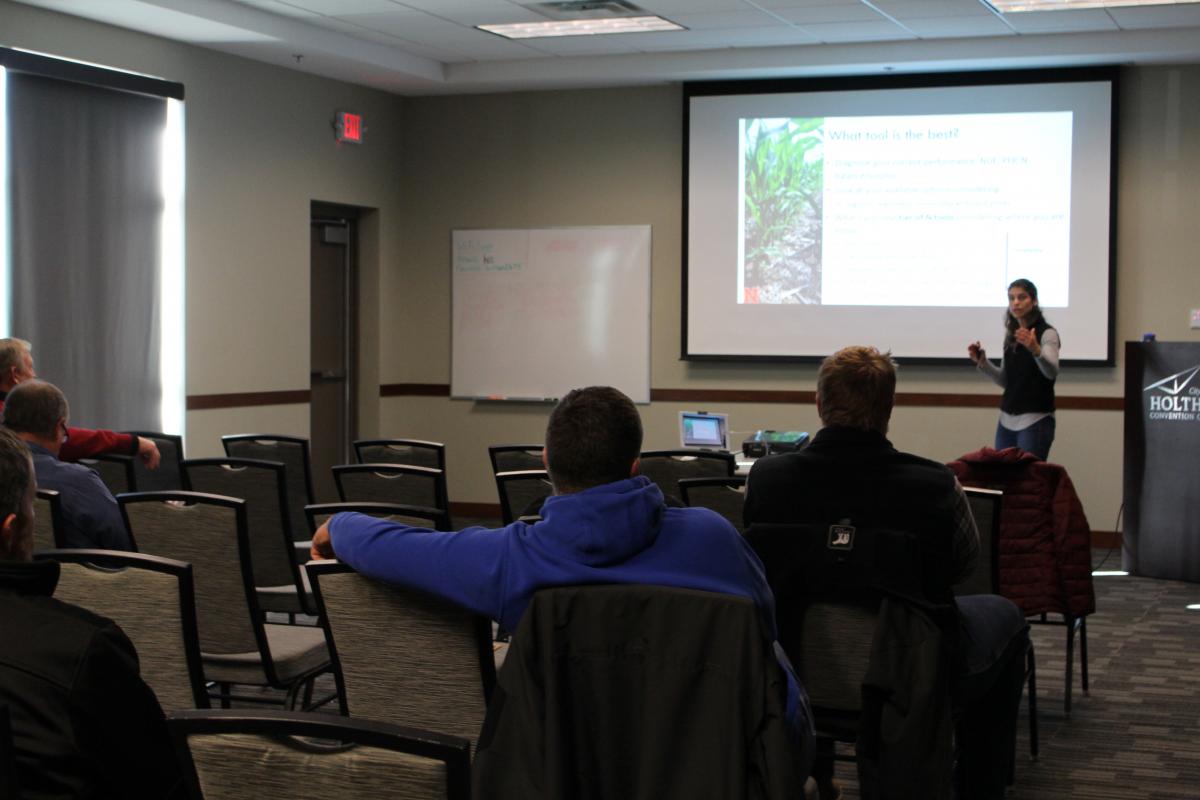 Jacob Fritton, water and agricultural program manager for The Nature Conservancy,
gave an overview
of programs available to producers in the district that will provide financial and other assistance to implement conservation practices. One of programs Fritton presented was the
soil health partnership
between the Central Platte and Upper Big Blue NRD, with the Nature Conservancy and other agencies, that is providing funding for cover crops, crop rotation, and no-till practices. He also talked about the
ongoing three-year interseeding cover crop trial
in select fields in the Upper Big Blue NRD.
Harvey Cool, associate agronomist with BASF, presented on
the benefits of using wheat in a crop rotation
to reduce compaction. He gave an overview of a research farm where a variety of crops are grown through different techniques and his work to improve soil health. Crystal Powers, a research and extension communication specialist with Nebraska Water Center presented on
nitrates in drinking water
, then led a roundtable discussion with producers about what changes they are already making to address nitrate issues. Some of the suggestions farmers came up with that they would like to try or are already implementing included: cover crops, crop rotation, farming for profit goals instead of yield goals, improving soil characteristics (such as pH and micronutrients), using hybrid technologies that use nitrogen more efficiently, no-till, split application of fertilizer (informed by tissue sampling results), monitoring soil temperature and moisture levels, and improving irrigation systems. Powers would like to hear from more producers on this topic and can be reached at
cpowers@nebraska.edu
.
Tim Mundorf, nutrient management lead at Central Valley Ag walked producers through the intricacies of
how to interpret a soil test
and how to make decisions based on the data that can improve nitrogen use efficiency. Dr. Jill Clapperton joined the workshop via Zoom to present on how
healthy soils produce more nutrient dense food
. Clapperton is the CEO of Rhizoterra Inc and is one of North America's foremost presenters on topics pertaining to soil health and its impact on food production. She was the keynote speaker for Project GROW's 2020 Winter Workshop and presented additional content that is also available
online
.
Jeremy Milander, assistant extension educator at the University of Nebraska Lincoln, presented on how the NRDs and other agencies are
partnering to stabilize groundwater nitrate
in the Bazile Groundwater Management Area. The Bazile Groundwater Management Area is the first federally recognized groundwater focused plan in the nation to address nonpoint source pollution. The area covers parts of four NRDs, requiring extra collaboration to address the issues of nitrate contamination in drinking water for residents. (More on this topic at
https://nitrateinwater.org/
.)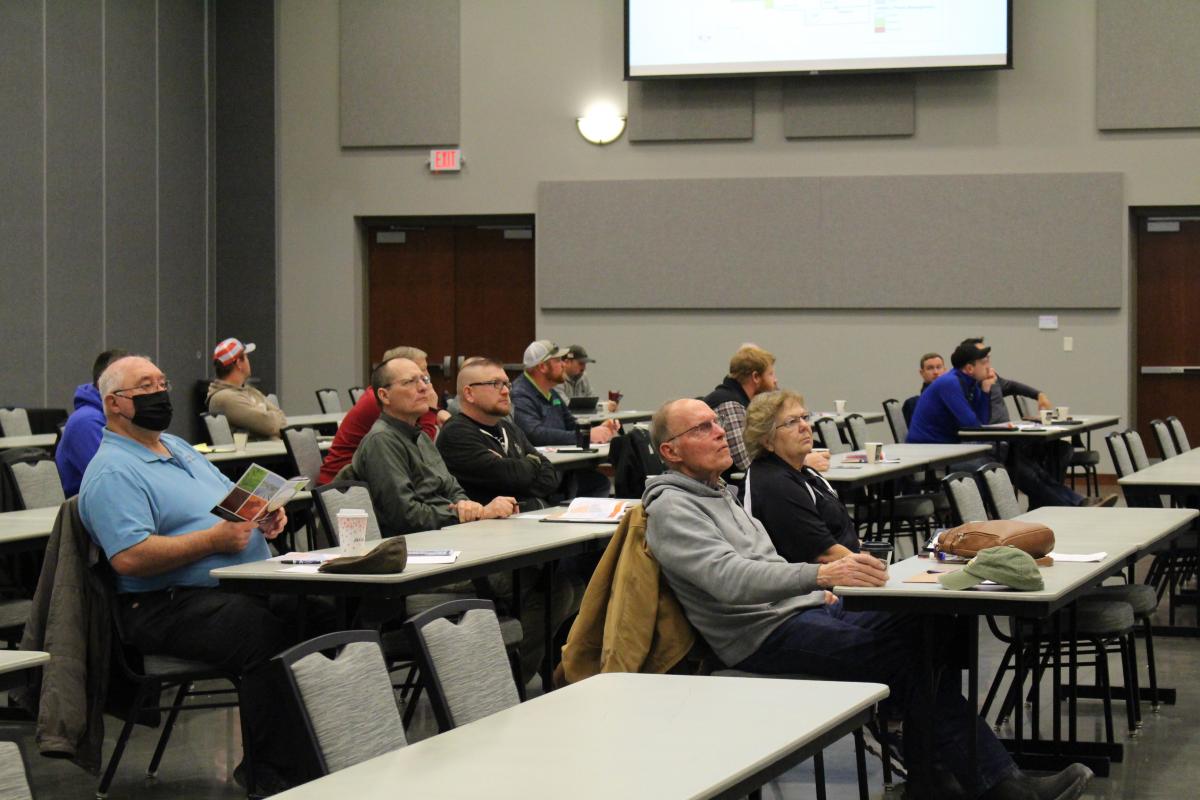 Al Dutcher, Nebraska State Climatologist, returned to the Winter Workshop again this year to talk about the
agricultural forecast for the upcoming growing season
. He looked at developing La Nina weather patterns and nationwide drought conditions to make a prediction for the year ahead, suggesting that there will be sufficient moisture in the spring. However, he also warned there are some similarities between current weather patterns and those that led to the intense flooding Nebraska experienced in 2019.
The next Project GROW Winter Workshop will take place in December 2022. If you have suggestions for topics and speakers, please contact the Upper Big Blue Natural Resources District. Video from the last three year's Winter Workshops are available on
YouTube
.
Upcoming Training Dates for Nitrogen Management Certification
January 13, 9 a.m. to 11 a.m., Holthus Convention Center (York)
February 16, 9 a.m. to 11 a.m., Leadership Center (Aurora)
March 15, 6:30-8:30 p.m., location to be determined