RVers Rev Up and Wind Down at NRD Rec Areas
RVers Rev Up and Wind Down at NRD Rec Areas
On the morning of May 20, the campgrounds at Bruce Anderson Recreation Area (Recharge Lake) in York are set to open at 10 a.m.; however, the line of RVs stretching through the park's main road has been here for hours. It's a first come, first served campground and these campers were determined not to miss their opportunity to secure a spot for Memorial Day weekend. By 11 a.m., all 12 RV pads at the facility are full and the sounds of summer are everywhere—children laughing, a radio playing, dogs barking.

This moment has been a long time in coming. Due to the pandemic, most campgrounds across the state have been closed or had reduced access, including the five recreation areas managed by the Upper Big Blue Natural Resources District. Anderson Recreation Area campgrounds, managed by the NRD, turned on the electric and water for one weekend in April this year before closing to campers for the next six weeks.

"We are glad to be able to have the rec areas open for campers again," said David Eigenberg, general manager of the Upper Big Blue NRD. "We have been following the Nebraska Game and Parks Commission recommendations closely and hope that people will enjoy our recreation areas in a safe way for the rest of this season."

Recreation area guests are asked to maintain social distancing, including having no more than ten people at a gathering. However other park uses, including boating, fishing, and hiking, are still available. On this particular day, a family is fishing from the boat dock area, enjoying some bonding time in the tranquil setting.

RV enthusiast Mike Kelch of Exeter was one of the first people in line for an RV pad. A heating and air professional, Kelch says camping is his preferred way to unwind when the weather is nice and Anderson Recreation Area is his go-to spot. "When it's nice out, we're up here a lot," he said of his wife and son. This season's late opening has been "a major challenge" for the family. "By this time, we would have usually been camping three or four times by now," he said. The family likes travel to several campgrounds around the state and typically camp just about every weekend through the summer months.

Kelch wishes the NRD would add more RV pads at Anderson Recreation Area, as it is his favorite place to camp and he notices that it's often full. "This campground is awesome," he said. "We come here whenever we can." When the Kelches are camping, they typically have friends join them for cookouts in the evening. Coronavirus has put a crimp in that plan this year. "It's probably not a good idea right now," Kelch admits.

Another of the first campers through the gates is towed by Steve Folts. Today is the maiden voyage for his new Trail Runner. "I just bought it in February, but after the COVID thing, we haven't been able to take it out," he said.

Folts and his wife, Lynn, live and farm in Benedict, 10 miles down the road from York. "This is just a short trip to try it out," he said. "We wanted to make sure everything works before we took it further." The couple plans to visit state parks this summer. Their plans for the long weekend in York involve fishing and relaxing with their daughter.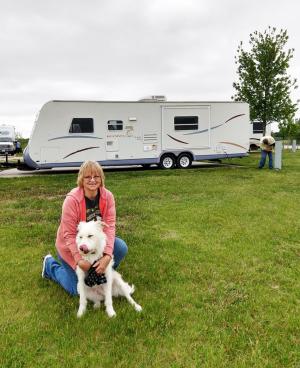 Mary Seggerman and her husband Dave from Fairmont are regular visitors to Anderson Recreation Area campgrounds. Dave is a school teacher. This camping trip is a much needed respite after a long and challenging semester. "We love camping and we were anxiously awaiting the opening here," said Mary, who arrived at 7 a.m. to make sure they got a spot. She was number nine in line. "It was crazy busy," she said.

The Seggermans and their dog Calleigh, a large, white terrier mix, like to walk the trails around the recreation area when they visit. Their other favorite activity? "Just chilling out by the lake," said Mary with a shrug.

For more information about the NRD managed recreation areas, visit http://www.upperbigblue.org/recreation.

RV hook ups are available at Bruce L. Anderson Recreation Area (Recharge Lake) and Pioneer Trails Recreation Area. Anderson recreation area offers a dump station and there is a dump station near Pioneer Trails at Streeter Park. RV camping is $15 per night and payment is made on-site at the parks.. No reservations are available. The maximum stay is 14 days in a recreation area followed by a 14-day absence before returning.

The NRD managed recreation areas are multipurpose projects, offering outdoor opportunities to enhance the quality of life for all residents, as well as a range of conservation benefits including groundwater recharge, wildlife habitat, and soil erosion prevention. These spaces are also used for research on water quality and quantity, weather monitoring, and flood control.
District Forester Kyle Yrkoski welcomes guests to the Anderson Recreation Area campgrounds