Soil Health Workshop Focuses on Increasing Agriculture Profit and Sustainability
Soil Health Workshop Focuses on Increasing Agriculture Profit and Sustainability
Thursday, December 19, 2019
More than 100 people attended the annual Project GROW Winter Workshop hosted by the Upper Big Blue Natural Resources District on December 3 at the Holthus Convention Center. Most of the attendees were farmers or others involved in the agriculture industry. Speakers were a diverse group of researchers and practitioners, presenting on subjects from increasing carbon in soil to more accurate irrigation and fertilization practices. Recordings of these speakers and other materials are
now available
.
"We were very happy with the turn out and participation of our local ag community," said Dan Leininger, water conservationist for the Upper Big Blue NRD and event organizer. "Opportunities for professional development are important and we are pleased to be able to provide that for our partners in agriculture." Leininger was the first speaker of the day, presenting on the Project GROW demonstration fields in York. Leininger discussed the methods used in the fields in 2019, where 160 acres of corn and soybeans were grown with cooperating farmer Scott Gonnerman. To improve soil health, no-till practices were implemented and a mix of cover crops were planted in addition to the cash crops. Manure was also added to increase the microbiotic activity in the soil. These efforts led to a reduction in residual nitrogen. The final numbers for these fields will be reported soon, but Leininger expects to report profitability, as few inputs were needed to harvest a healthy crop.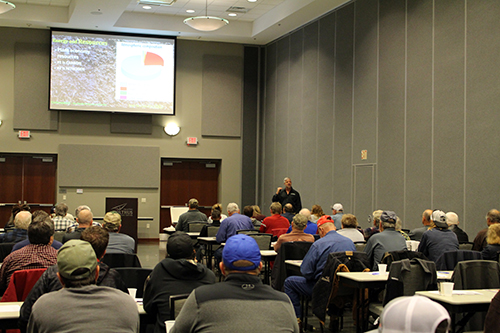 Dr. Patricio Grassini, associate professor of agronomy at UNL, and Fatima Amor-Tenorio, a post-doctoral student who works with Grassini, presented on their research on irrigation and nitrogen efficiency. They looked at data to benchmark water and fertilizer use across the state to determine where producers were losing money due to overuse of resources without yield increases. They concluded that in Nebraska there is much room for improvement in this area and that achieving high corn yields with relatively small amounts of residual nitrogen is a realistic goal, especially as corn in rotation with soybeans exhibited higher yields with lower nitrogen balance. They hope that their research tools and benchmarking framework will be of use to producers as well as NRDs and other government agencies involved in planning and resource allocation.
Crystal Powers, a research and communication extension specialist with the Nebraska Water Center, followed with a presentation on the nitrogen contamination problem in Nebraska's groundwater supply. She acknowledged that it is a complicated problem tied into food supply, rural vitality, and health, and suggested Nebraskans need to take action to reduce further nitrate contamination in groundwater. More than a matter of human and environmental health, the excess nitrogen left in fields is a huge economic drain for producers. UNL estimates that 77 percent of fields in the Upper Big Blue NRD in 2018 had 20-40 pounds of excess nitrogen applied, costing individual producers thousands of dollars. She also presented data on the health risks and associated costs involved with nitrogen contamination, including cancers and negative birth outcomes. Some communities in Nebraska are implementing water treatment solutions to remove nitrogen (and associated uranium) at a cost of about $60 per person in a large city up to $650 per person in a smaller town.
The keynote speaker of the day was Keith Berns, no-till farmer and co-owner of Green Cover Seed of Bladen, Nebraska. Berns compared the activity in soil to the economy of a nation. Carbon, he explained, was the currency of this economy and all supply and demand, production and consumption, turned on this one simple element. He also discussed the vital role that microbiota and fungi play in the healthy economy of the soil, as they are involved in plant defense, nutrition, and communication. Conventional tillage, Berns suggests, is highly damaging to the soil as it disrupts the infrastructure provided by these beneficial microorganisms. Berns recommended no-till and cover crop practices to improve the health of a producer's soil and thus increase yield while keeping inputs at a minimum.
The final speaker of the day was state climatologist Al Dutcher. Dutcher recapped the wild weather patterns in Nebraska in 2019 and predicted some possible weather outcomes to look for in 2020. He suggests that an elevated flood risk will continue through much of the Corn Belt through spring 2020 and that the degree of flood risk will hinge on precipitation, temperature, frost depth, and storm tracks through the winter months.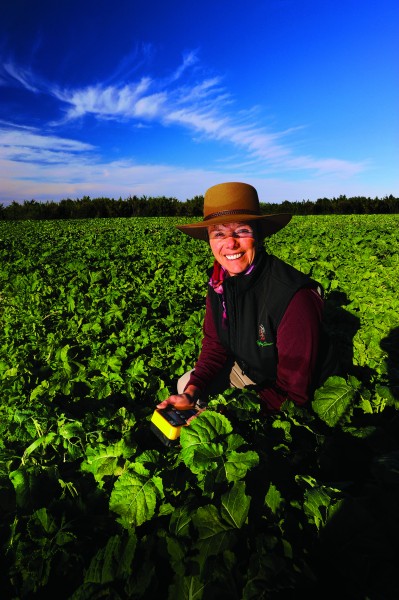 Another day of learning is on the horizon, as the Nebraska On-Farm Research Network will hold their 2020 annual results update on February 28 in York at the Holthus Convention Center. This meeting will include a special focus on cover crops and soil health and is jointly sponsored by the USDA-NRCS and the Nebraska On-Farm Research Network. The event will run from 9 a.m. to 4 p.m. and will include lunch. There is no cost to attend, but registration is required. Contact onfarm@unl.edu or (402)624-8030 to register.
The 2020 Project GROW Winter Workshop will be held December 2 and will feature keynote speaker Dr. Jill Clapperton. Clapperton is the principal scientist, founder and owner of Rhizoterra Inc., and is a well-known international lecturer and advocate for practices that promote soil health. She was the Rhizosphere Ecologist for 16 years at Agriculture and Agri-Food Canada's Lethbridge Research Centre in Lethbridge, Alberta, Canada, before she moved to a ranch in the Bitterroot Valley of western Montana. More information and registration details to follow in fall 2020.