Student's soil health project on display at NRD
Student's soil health project on display at NRD
When local student Alex Morner was searching online for interesting topics for a science fair in spring 2021, information about soil health and erosion caught his eye. Morner's family grows corn and soybeans near McCool and have implemented soil health practices including cover crops and no-till. When he saw instructions for a rainfall simulation to demonstrate the effectiveness of these practices, he was hooked. "I thought it sounded fun," said the 14-year-old, who has a passion for agriculture.
Morner was an 8th grader at St. Joseph's Catholic School in York at the time, but he sought assistance from the McCool Junction Public School FFA chapter that he plans to join the fall of 2021. The chapter allowed him to utilize an erosion table structure that had been built for classroom experiments. The erosion table has space for three paint pans, which contain soil samples tilted at a slight angle, with a drainage tube at the lowest point on the pan. The soil samples are taken from similar areas as far as soil type but represent different management activities. The first pan contains a sample from a conventionally tilled location. The second sample is from a no-till field. The final pan combines soil health best management practices, containing soil from a no-till field that has also been planted with a rye cover crop.
The soil samples were taken from Morner's family farm.
For the experiment, Morner placed a large glass jar beneath each pan so that water poured over the samples would run down through the tubing and into the jar. The water added to each pan of soil represented rainfall, allowing Morner to measure the amount of erosion on each soil sample by how much sediment ended up in each collection jar.
The experiment showed that the conventionally tilled bare soil had the greatest amount of soil sediment end up in the collection jar with the water runoff. The no-till soil had somewhat less soil in its collection jar. The no-till soil with rye cover crop had very little soil run off into its collection jar, showing that these practices are useful for prevention of erosion. The practice is also an important method for keeping inputs, including nitrogen-based fertilizer, on the field instead of in surface and ground water where it can pose a risk to human and animal health.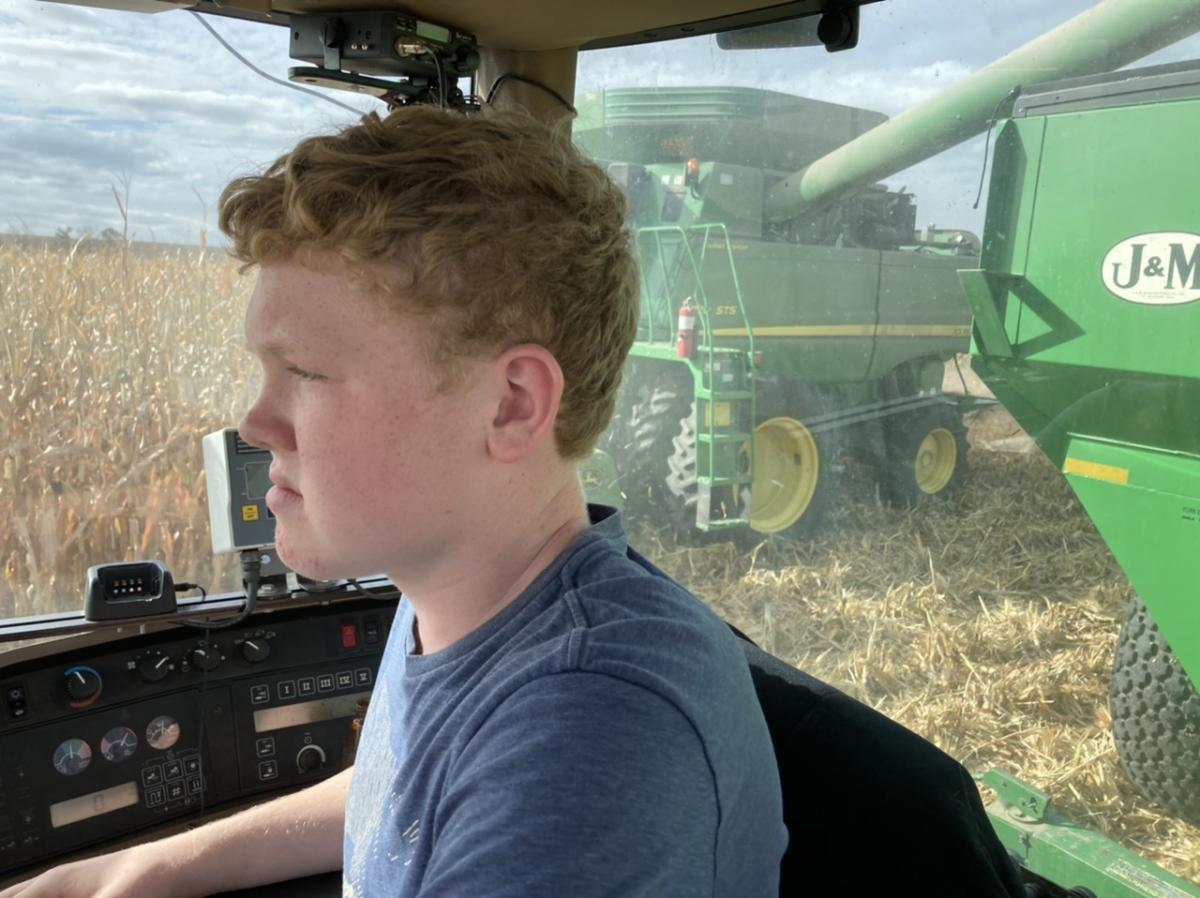 Alex Morner enjoys the view of harvest on his family's fields from a tractor cab.
While there were no ribbons given at the science fair held in April, Morner said that his rainfall simulator experiment was well received. "People really liked it," he said, noting that it was popular with the other ag producers in the crowd that attended the event, as well as with students and teachers.
Morner says he may follow in his family business of farming when he's older, and if he does, he'll definitely utilize the soil health practices demonstrated in his science fair project to prevent erosion on his farm. This summer, Morner is helping his father with general farm operations. "There's always so much to do in the summer," said Morner's mother, Patty. "Every day there's something new for him to do and learn."
Morner and his younger brother, 12-year-old Aaron, are the owners and operators of another agribusiness: Morner Brothers Honey. The pair manages 10 hives spread across two sites in York County, producing about 60 gallons of honey per year. They sell their product at a variety of stores and farmer's markets in York and Beaver Crossing, including York's Ace Hardware.
The rainfall simulator experiment Morner presented is on display through the summer in the lobby at the Upper Big Blue NRD headquarters building (319 E. 25th St, York).