Teens Tackle Water Quality in Rural Nebraska
Teens Tackle Water Quality in Rural Nebraska
Environmental science students from Centennial High School and their teacher enter the lab of the Upper Big Blue Natural Resources District carrying three samples of water—two in specimen cups and one in a mason jar. These samples were collected from their families' homes in or near Friend, Exeter, and Utica in the last 48 hours, from private wells and municipal water systems. The water looks perfectly drinkable, clean and clear. But is it as good as it appears?

They ask questions as they put on gloves, siphon out a small amount of the water with pipettes, mix samples in vials with a solution, and put them in a holding rack to wait until they are ready to process. How much nitrate is too much? What happens if you drink water with high nitrates? What impact do nitrates have on crops and livestock? How did the nitrate get in the water? Is this water safe to drink?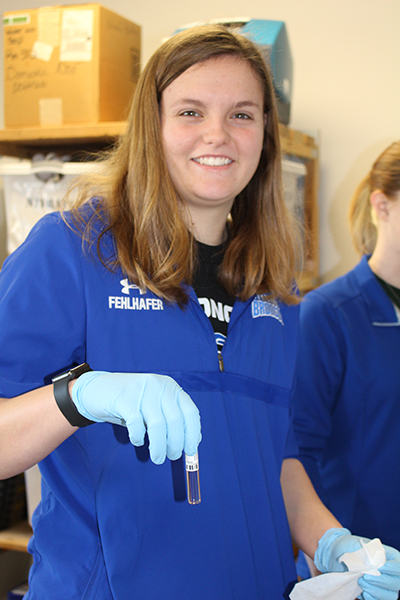 After 15 minutes, the samples are placed in the NRD's Hach water analysis spectrophotometer machine to report results. This is the same machine the NRD uses to regularly test samples from across the district for nitrate contamination. Of the students' samples, one is very low in nitrates. The next is close to the EPA guidelines threshold for safe drinking levels of 10 parts per million.

The final sample is more than three times greater in nitrate than is recommended for safe human consumption.

These results lead to the most important of the students' questions: How do we make our water better?

This eye-opening field trip is the first step in a planned collaboration between the Upper Big Blue NRD and Centennial students to examine water quality in the Utica area, where nitrate contamination in private wells is a concern. The motivation for the collaboration is two-fold: students will gain hands-on experience in applied science that could help prepare them for careers in natural resources in Nebraska and they will be more aware and informed about water quality challenges in their community.

While waiting for their samples to process, there is ample time to discuss local water quality and quantity and the work of Nebraska's 23 natural resource districts, from the Conservation Tree Program to flood control structures and recreation areas. Centennial High School science teacher Becca Vossler and NRD water technician Erinn Richert lead the discussion, fielding questions from students about a range of conservation activities.

"Do you guys know if you have high nitrates in your water?" Vossler ask her students. They all shake their heads—nitrate contamination is not something they have heard much about before now. Richert encourages the students to have their water tested annually if they rely on well water and to consider home filtration systems such as a reverse osmosis unit.

Beyond potential contamination in their personal drinking water supply, students in Vossler's class will also look at the systemic issues that impact water quality in their community and across the state during the spring semester. Vossler and the NRD are currently seeking grant funding to expand the program to allow students to do more local water testing and communicating with the public about threats to the water supply. If the program is successful, it may be reproduced at other district schools in the future.

"Coming from a rural area, water quality is something we need to be aware of," said Vossler after the lab experience. "It was great to get the students into the lab to see how these tests are done. We are looking forward to partnering with the NRD and locals in the area to test their water samples and provide information as to what their test results mean. Our students will be creating brochures discussing the risks associated with high nitrates in the water and will include resources and solutions for those whose samples test high."

Concerned about the quality of your water? The NRD offers free analysis for nitrates and bacteria in groundwater. Rural domestic wells are not held to the same regulations as public water systems, so it is the well owners' responsibility to ensure safe drinking water. These wells should be tested at least once per year. Full details about how to collect and submit a water sample are on our website at www.upperbigblue.org/programs/water.

Erin Richert, water resources technician with the Upper Big Blue NRD, talks to Centennial students about water quality in the NRD lab.