Trees for Conservation and Celebration
Trees for Conservation and Celebration
Upper Big Blue NRD wraps 2022 tree planting season
For 50 years, Nebraska's Natural Resources Districts have been committed to local conservation activities that safeguard soil and water resources. A bedrock of NRD programs has been
tree planting
, whether for windbreaks, wildlife habitat, or community parks and nature areas. In the spring of 2022, the Upper Big Blue Natural Resources District provided more than 23,000 trees in the nine-county area it serves.
In addition to the successful Conservation Tree Program that is offered each year, this year the Upper Big Blue NRD also offered communities in the district the opportunity to plant a nursery stock tree (4-8 ft size) and be reimbursed for the cost (up to $300). These community tree plantings were in recognition of the 50th anniversary of Nebraska's NRD system, as well as the 150th anniversary of Arbor Day, Nebraska's tree planting holiday. The district communities of Beaver Crossing, Aurora, Stromsburg, Polk, Gresham, York, Waco, and Utica took advantage of this program and planted trees in public parks.
"Trees are great in parks, giving shade and blocking wind to make the property more usable in the summer," said Kyle Yrkoski, Upper Big Blue NRD district forester. "We were glad that several communities in the district celebrated our anniversary by adding trees to public land and enhancing their quality of life for their residents by improving their treescape."
NRD Anniversary community tree plantings in Stromsburg (above), Aurora (left), and Polk (right)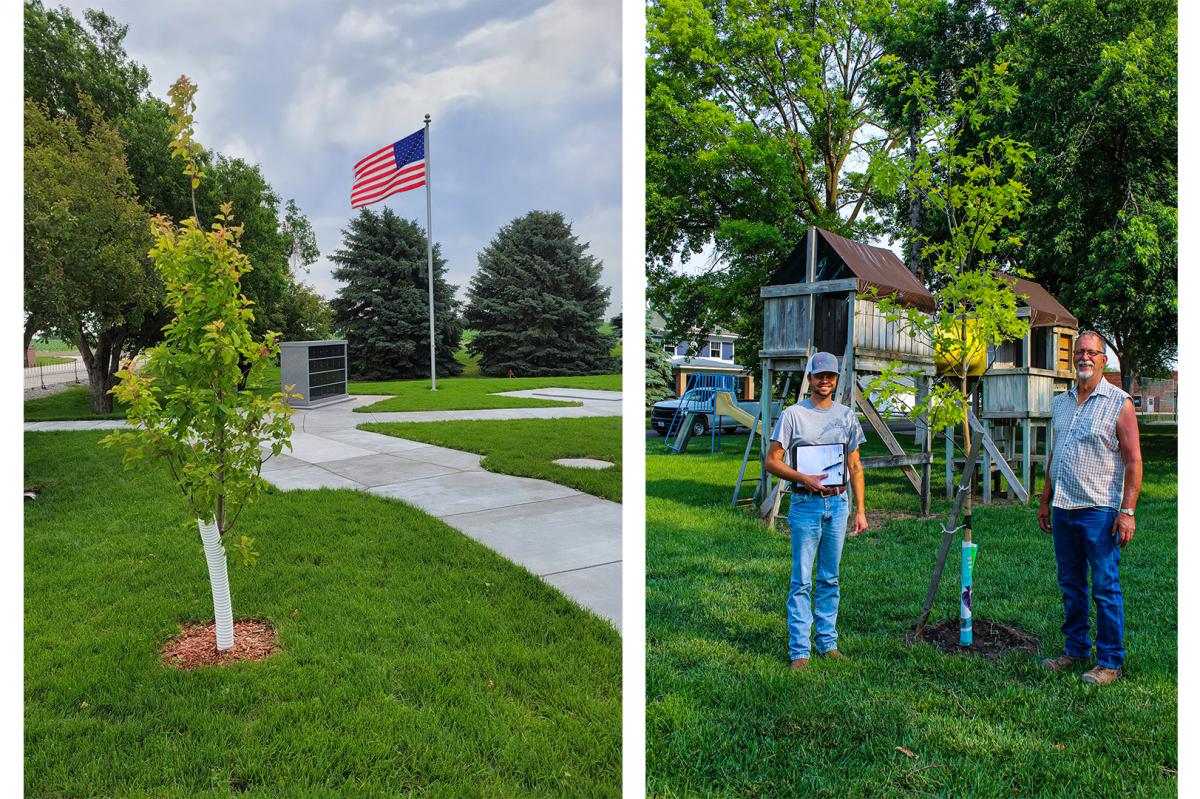 The number of anniversary trees planted, however, pales in comparison with the number of trees sold through the NRD's Conservation Tree Program this year. The district forestry team planted more than 8,000 trees on properties from Hastings to Milford. The windbreaks they installed will protect homes and livestock, as well as provide wildlife habitat improvement and numerous other benefits. Additionally, almost 15,000 trees were purchased by individuals across the district to plant on their own.
"Each year, the Upper Big Blue NRD provides thousands of low-cost, bulk seedlings for planting across the district through our Conservation Tree Program," said Yrkoski. Orders for trees are collected November to March each year, then trees are distributed in April in time for spring planting. In total, the Upper Big Blue NRD has sold more than one million trees for planting in the district over the past half century. Across the state, Nebraska's NRDs have planted more than 100 million trees.
The Upper Big Blue NRD would like to recognize Executive Travel for offsetting the cost of a portion of five district planting projects this year as part of
their commitment
to reducing their carbon footprint.
Storm Damaged Trees Program
Due to the recent storms that impacted the area, the Upper Big Blue NRD would like to remind district residents and communities of the Storm Damaged Tree Program available to them. The program is designed to encourage replacement plantings of trees and shrubs damaged or destroyed due to tornadoes, strong winds, hail, and ice storms. The program offers cost-share funding of up to $300 per individual or $10,000 per community for tree replacement to provide public and private benefits. Cost-share funding will be considered for 4' – 8' nursery stock replacement trees. This program is not for replacement of trees that have been damaged or have died due to winter kill, disease, or insects. Cost-share through this program is not available for the removal of damaged or dead trees, stump removal or maintenance. For full details on eligibility and funding, visit
https://www.upperbigblue.org/stormdamagedtrees
.