NRD Rec Area News
NRD Rec Area News
Wednesday, March 10, 2021
Camping Season Begins April 12, Controlled Burn Planned for Pioneer Trails (Aurora)

The official start to the camping season will be Monday, April 12, at recreation areas managed by the Upper Big Blue NRD, the organization has announced.

The NRD manages five recreation areas, offering outdoor opportunities to enhance the quality of life for all residents. These multipurpose properties also offer a range of conservation benefits including groundwater recharge, wildlife habitat, and soil erosion prevention, and are also used for research on water quality and quantity, weather monitoring, and flood control.

Specific activities and amenities at the recreation areas vary by location. Some of the rec areas are minimally developed to allow for more wildlife use, while others are improved for increased recreation use. RV hook ups are available at Bruce L. Anderson Recreation Area (Recharge Lake in York) and Pioneer Trails Recreation Area (Aurora). RV camping is $15 per night and tent camping is $5 per night. Payment is made on-site at the parks via cash or check, or by card in the NRD office headquarters (319 E 25th, York) during normal business hours. Camping spots are first come first served. No reservations are available. All of NRD campgrounds have a 14-day maximum stay in any 30-day period for RVs and tent camping.

Ahead of the spring camping season, the NRD plans to conduct a controlled burn on a seven-acre section of land at Pioneer Trails Recreation Area near Aurora. The timing of the burn has not yet been decided as it is weather dependent. The recreation area will be closed to all guests during the burn activities to ensure safety. Controlled burning is a natural way to manage aggressive plant species and improve the wildlife habitat, as it mimics prairie fires that were once common on this landscape due to summertime lightning strikes.

District forester Kyle Yrkoski is coordinating the controlled burn. "Fire is a really good management tool, better than just mowing, because it breaks up the deep thatch of brome cover," he explained. Brome is a non-native grass that can overwhelm other plants if not properly managed, as it grows in a thick mat that blocks out other grasses. After the burn, NRD staff will reseed the affected area with a five-species mix of native prairie grasses.
Cedars and prairie grasses that will be impacted by the controlled burn at Pioneer Trails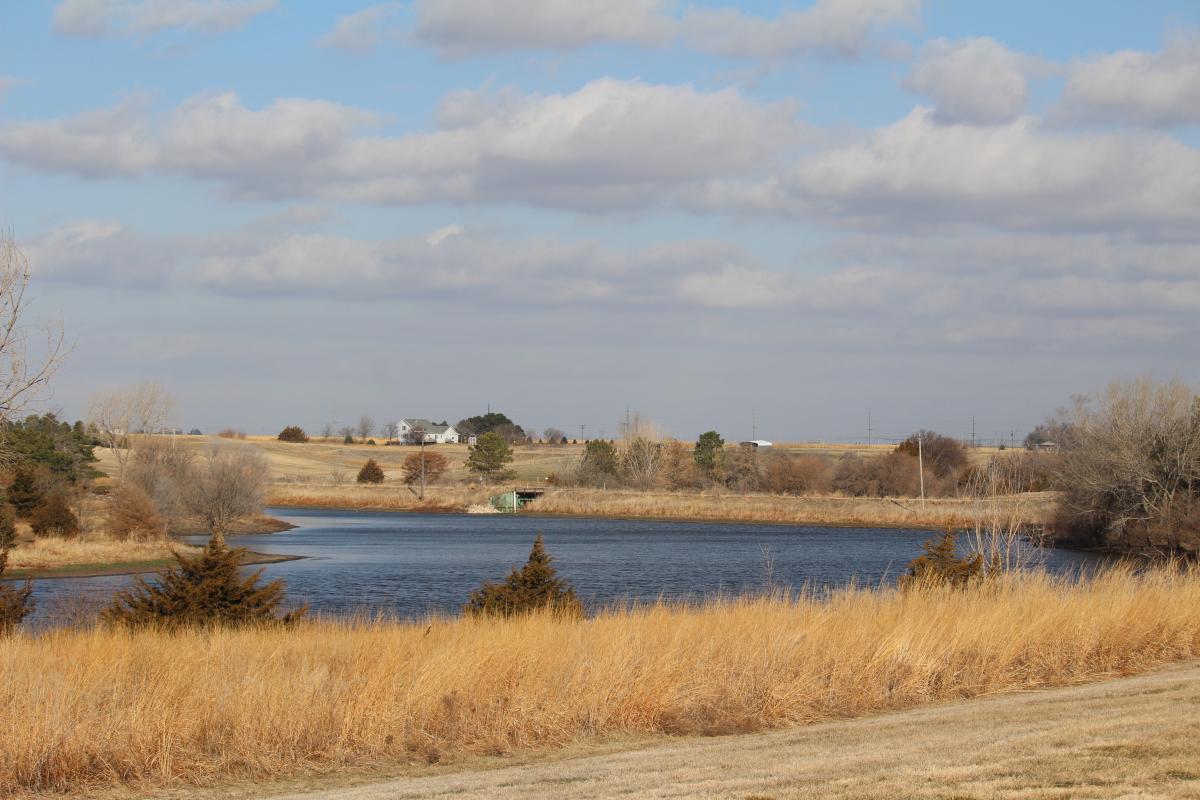 Early spring is the ideal time to conduct a controlled burn, said Yrkoski, as it will remove last year's dead plant matter and give plenty of time for vegetation to bounce back before summer's heat arrives. The earth will look blackened and scorched for several weeks but the result will be lush, abundant growth, Yrkoski assured. This will be especially beneficial to pollinators, as part of the burn will impact the pollinator patch area of Pioneer Trails. The burn will remove invasive species and allow for increased growth of forbs (flowering non-grass species like clover, wildflowers, and milkweed), which are preferred by birds, bugs, and butterflies.

NRD staff have also removed several cedar trees from the area ahead of the burn. "Cedars are a native Nebraska species, and they grow really well here. They are a good component of a windbreak for several reasons, but in a rangeland setting, they have to be managed or else they will reduce the stocking rate over time," said Yrkoski. At Pioneer Trails, volunteer cedars were obscuring access to the lake along one section of the shore and popping up along fence lines. Yrkoski suggested that managing rangeland with controlled burning should be done every three to five years. "This is a great opportunity for us to model this conservation practice for district landowners who may also need to manage their rangeland."

In the future, the NRD will likely implement a controlled burn at one recreation area annually, rotating around the district. The Upper Big Blue NRD is partnering with the Seward-based fire services company Lite Em Up Custom Burning Inc as well as Central Platte NRD on this effort.

The park will be closed to all guests during the burn activities to ensure safety.
District Forester Kyle Yrkoski at Anderson Recreation Area in May 2020